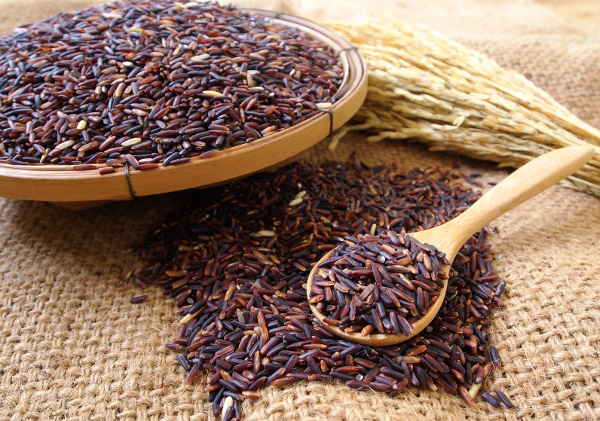 Riceberry is a freshly registered variety of rice in Thailand. This rice variety was primarily created by the Rice Science Center in Kasetsart University in Thailand through four years of active selection for anthocyanin stability, nutritional properties, cooking and physical properties. The result is deep purple rice with palatable and soft after taste.
Riceberry is a cross pollination of the three most loved and hardy strains of rice in Thailand and these include the following:
Thai Hom Mali – it is recognized as the fragrant rice of jasmine; the most sort and highest quality of rice that retains its soft and fluffy consistency right after cooking.
Hom Nin – it has documented and well-known antioxidant properties. However, this rice grain became a bit chewy when not cooked properly.
Khao Dawk 105 Mali – a hardy seed grows in wide array of agricultural places.
Result of this cross-pollination resulted to the Riceberry rice – an exciting and new variety of rice. It has also acquired the best attributes that each rice grain has. The flavor and fluffy light texture from the Thai Jasmine, high antioxidant and minerals from the Hom Nin as well as the high yield and hardy characteristic of the Khao Dawk rice.
Cultivation and Production
The Riceberry productions in Thailand are commonly found in the northeast and northern part of the place. The best month for planting Riceberry starts from the month of August up to December. Riceberry rice plants height ranges from 105-100 centimeter with 130 days of maturity. It has can also yield for almost of 1875-3125 kg/ha.
Nutrition Profile
Riceberry rice is very famous in Thailand because it is rich in antioxidant that helps to keep your immune system healthy. This rice in Thailand contains significant amount of the following:
Vitamin E
Beta Carotene
Folic Acid
Gama Oryzanol
Zinc
Tannin
Fiber
Bran Oil
These are the minerals, vitamins and antioxidants giving Riceberry rice a relatively unique kind of nutrition profile. Its purple dark color signifies that it contained high nutritional value. It also provides unique kind of appearance in your plate when served. It is also high in bran oil and fiber – a natural digestion aid and keeps your stomach free from unhealthy diseases.
Riceberry rice had been very popular in Thailand because of the health promoting nutrients and properties that it offers. This only manifests that as you eat this kind of rice, you will not just be satisfied with its soft and palatable taste but you will also be happy with the nutrients that this type of rice give to your body.
Thailand Government Supporting Riceberry Rice
The government of Thailand has been supporting Riceberry rice sales in domestic and exporting markets. They also aim to enhance its total plantation not only in specific areas in Thailand but all over the area within three years. This is not only to serve for high demand in the worldwide market but also to increase the income of the farmers in Thailand since it has twice the white rice price.
Nowadays, numerous restaurants in Thailand are already offering this Riceberry rice in their place. This is because of the palatable taste and flavor it offers that made customers keep coming back again to order this Riceberry in Thailand.